---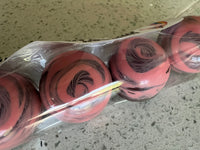 Watermelon Lime - 4 pack
4 pack of watermelon lime bonbons. Watermelon creme with lime zest. Made with real watermelon juice. This flavor has no nuts or other allergens in the ingredients.
Butter mint: a favorite of many, a soft butter mint creme
Blueberry cheesecake: blueberry pate de fruit with a cheesecake creme.
Ube: Ube flavored creme. Ube is a purple sweet potato and was popularized as a flavor in sweet dishes in the Philippines.
Mango lime tajín: a mango pâte de fruit with a lime creme and tajín seasoning. Tajin is a Mexican seasoning made with chili peppers. This one has a mild spice to it.
Spumoni: cherry creme with a pistachio gianduja. 
Lemon custard: lemon custard flavored creme.
Red hot peanut butter: hot cinnamon creme with a peanut butter gianduja.
Rum raisin: a brown sugar creme with rum flavoring with a raisin in the middle.
Passion fruit coconut: passion fruit pate de fruit with a coconut creme